Booting up the Magellan Explorist GC
1. Fresh batteries
2. From the turned off state
3. Connect USB
4. Hold joystick up, menu and power button all together
5. Insert paper clip into the reset hole next to the USB plug and click it

This will restart it in disk access mode. From here I would think you could rerun the upgrade (either from VP or just download the file from magellan).
ExploristGC_Getting_to_TFAT_Drive
Try to hold menu+up+power at the same time, and see if you can connect to the PC. If you can, delete your GPX file, and it will come back. You need to be plugged into a PC before you do the key sequence. It should show up as an external drive.
Unlock the Antique Map Background
Try Tools > Settings > Backgrounds > Zoom - > Zoom - > Zoom + > Zoom + > Zoom - > Zoom +
Futuristic Compass - Explorist GC

Tools > Settings > Compass > Left > Up > Right > Down > Left > Up > Right > Down > Left > Zoom - > Zoom - > Zoom + > Zoom +
New compass and the new background.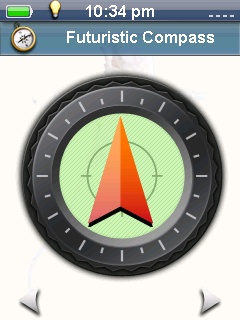 Unlock a new background
Go to Tools--> Settings--> Background-->Press Left,Right,Left,Right,Left,Right,Zoom-,Zoom+
Changing the Background Image on Your Explorist GC
To change the background image on the GC, just add a new photo to the app/backgrounds directory with a dimension of 240 x 320 pixels. However make sure that the file is a .png file.